Business and Breakfast
CEO Business Visits
---
Board Mentor Breakfast
Wednesday, the team got to speak individually with all of their CEO board mentors for breakfast. Finally, the lanyards were distributed. Next to enjoying a nice breakfast, everyone got to speak on their future plans for each of their businesses. Some spoke on College next year, some spoke strictly business, but everyone took something away from the breakfast.
---
Ardagh Glass Plant
Kim Johnson, Saad Kahn, Bob Burke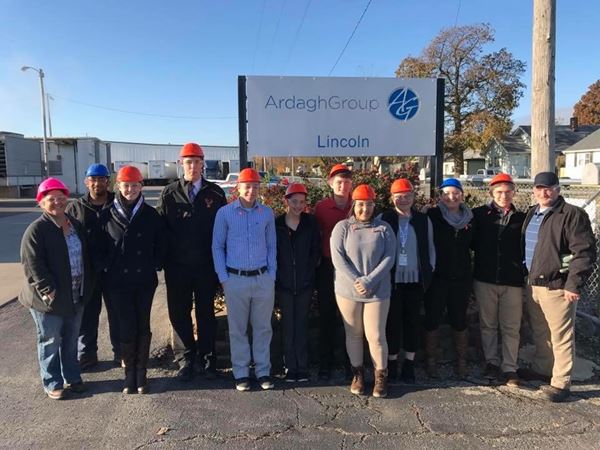 Wednesday the CEO team went to Ardagh Group Glass and bottle factory. The team was able to meet with Kim Johnson and other members of the Ardagh team. They got to tour the plant and get an inside look on what Ardagh is all about. While visiting, they learned about the importance of organization and efficiency. They also learned about empowering employees, and strategies to keep your team of coworkers invested in your vision.
---
Student Journal Highlights for this week
Monday, we were able to start the week by choosing a CEO. We chose Haley, and I am excited to see her succeed in her position, and help us achieve our goals as a team. We are starting to make progress in our group business, and I am excited to see what we end up coming up with.

Emma Schoth
Sunday, November 5, 2017Learn More About Emma
Wednesday, we met Kim Johnson and other Ardagh team members in Lincoln and took an awesome tour of Ardagh! Ardagh is a very successful and impressive glass company. The way they operate their business is very strategic, rhythmatic and impressive. I was blown away at how system-oriented the business is. Everything has to be precise, and if one thing goes wrong, everything else does as well! Lincoln is the number one plant out of all sixteen, and that comes as no surprise seeing how well they keep their workers motivated and driven!

Hayley Matson
Sunday, November 5, 2017Learn More About Hayley
Tuesday was the day of our board mentor breakfast. I was able to sit down with my mentor, Clyde Reynolds, and get to know him better. It turns out that he knows my choir teacher as well as my boss, so it was amazing to see the mutual connections. One thing about our conversation stood out the most. We were talking about opinions and Clyde told me that, "when you have your own opinion, it doesn't mean that everyone else's opinion is wrong." I think this is important because if we do not listen to the other ideas and opinions around us, we could miss out on great opportunities.

Mya Roberts
Sunday, November 5, 2017Learn More About Mya
---