CEO: Stepping into Business
---
Meador Investigations
Mike Meador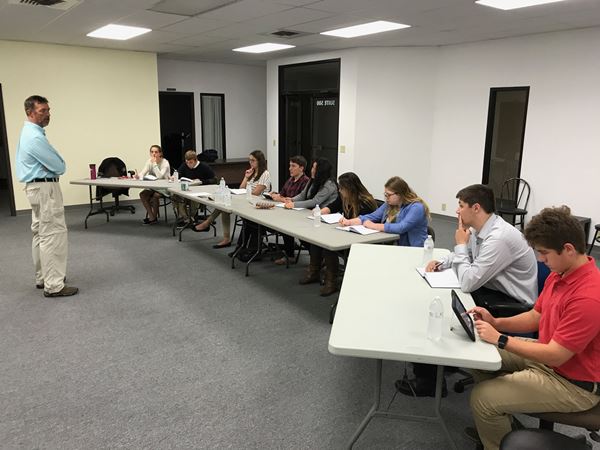 We met with Mike Meador at Meador Investigations on Tuesday. Mike spoke on the importance of budgeting explaining to the team how he budgets himself- 10% God, 10% your future, 80% for yourself. Having money put back is great, but he explains that you need to have a goal in mind with that money and work in general. You will never accomplish getting anywhere if you do not have specific goals in mind. Mike also spoke on the importance of investments and loans. He explained that debts are not meant for commercial items but rather for making more money. Along with finances he clearly defines key differences between assets and liabilities. Assets are not something you own but rather something that makes you money. Lastly, Mike gave us his personal rules of business: Whatever you do, you must make money. If you do not, it is just an expensive hobby. You can have everything you want as long as you help others get what they want, and finally whatever you do, own it all- the failures and the successes.
---
Keystone Risk Management
Clyde Reynolds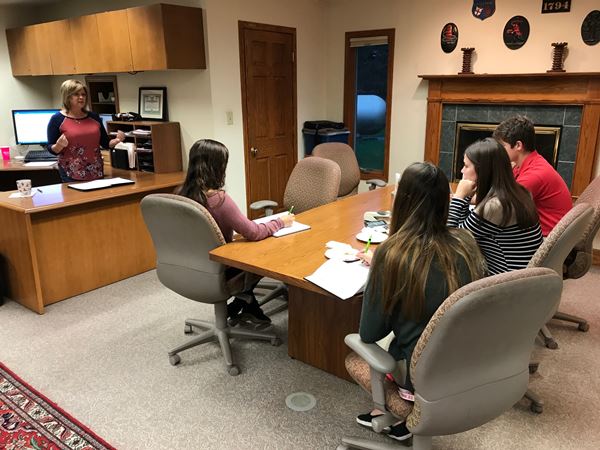 On Wednesday, the CEO students visited Keystone Risk Management. The team spoke with  Carla Anderson, Wesley Reynolds, and Clyde Reynolds. They taught the students the ins and outs of running an insurance business from home. Clyde stressed the importance of maintaining a balance between work and home life. The speakers encouraged the class by asking them about their future business ideas. Carla and Wesley also spoke on doing something you believe in and not compromising your values. Overall it was a rewarding learning experience for the students.
---
Heritage Packaging
Greg Basford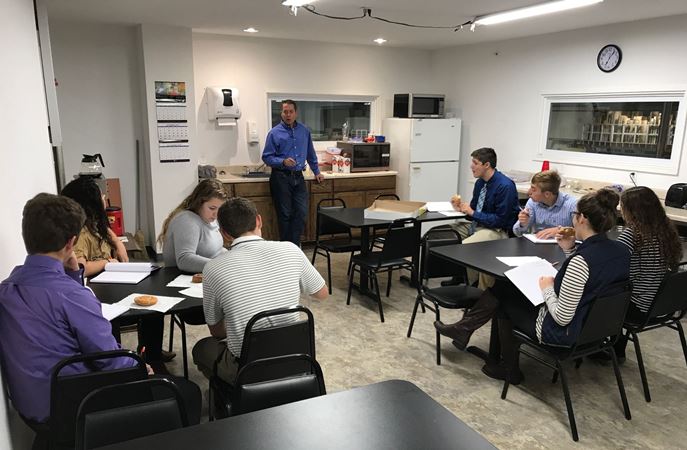 IMG_1030
The CEO class visited Heritage Packaging Corporation, a corrigated box manufacturer in Lincoln. Here, the students spoke with Greg Basford who told them of his progress and growth in the establishing of his business. Along with advice regarding the do's and don'ts of business, Basford even gave the students handouts on the rules of thumb such as record keeping and open mindedness. Aside from his words of wisdom, Greg took the students on a tour of the factory. He explained to them the detailed mechanics of the machinery and the processing behind each production.
---
Student Journal Highlights for this week
Wednesday, we went to Keystone Risk Management. They talked to us about differentiating yourself from competition along with balancing work and family life. I really enjoyed the idea of working at home. I think it would help you stay involved with your family and run your own business at the same time. One thing Clyde talked about that many other speakers have is sacrifice. When they talk about starting their business, they always talk about something they had to give up for a time.

Austin Hayes
Sunday, October 15, 2017Learn More About Austin
On Thursday we visited Heritage Packaging. This tour consisted of us speaking to Greg Basford, as well as being taken on a tour of the factory. I've never seen the inside of a real factory before, and I found it very fascinating. I also thought it was amazing that Greg completely understood the ways all of the machines worked, even though he's the one wearing the business suit.

Emma Cooper
Sunday, October 15, 2017Learn More About Emma
"The​ ​world​ ​judges​ ​you." That was a quote from Mike Meador that stuck with me. No matter what, the world is going to judge you. So keep going. Push yourself to do what others may doubt.

Hayley Matson
Sunday, October 15, 2017Learn More About Hayley
---