CEO: Progressing to Higher Heights
CEO Business Visits
CEO Guest Speakers
---
Shew's Design Center
Mark Shew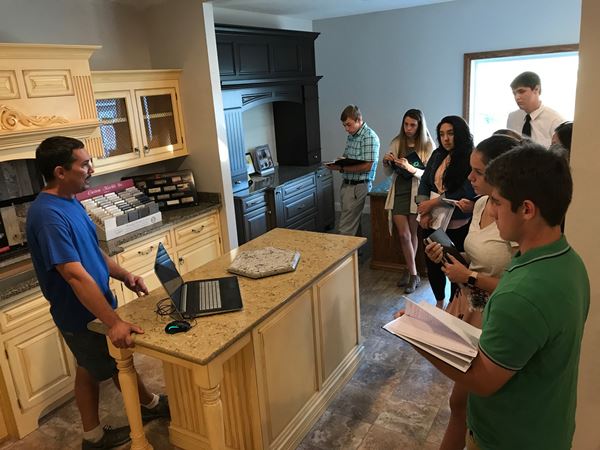 On Tuesday, the CEO students visited Shew's Design owned by Mark Shew. Mark shared with them his journey through the construction business, and how he got where he is today. Mark stressed the importance and valuing people and creating a positive environment for employees. The students also had the opportunity to take a tour of a modular home, and learn what it takes to build one. Overall, it was an excellent learning experience for the students.
---
Manager of Rehab Services ALMH
Todd Mourning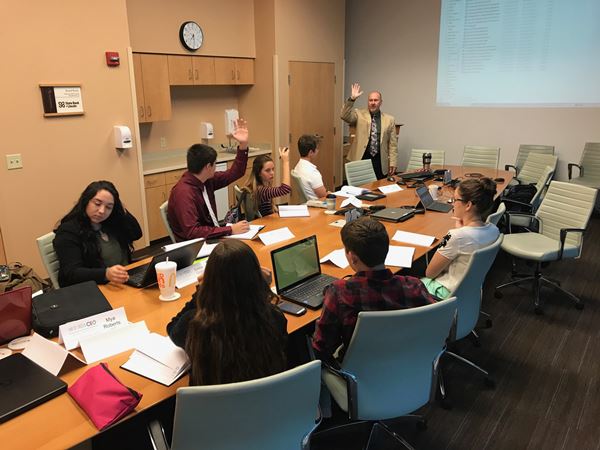 On Wednesday, Todd Mourning, Manager of Rehab Services at Abraham Lincoln Memorial Hospital, came to speak to the CEO class. He discussed the process of recording data and finances. He reviewed examples of a business plan constructed by a former CEO student. Todd explained the importance of forming a plan when starting a business in order to understand the various expenses and profits. He provided the students with beneficial information regarding the proper ways to introduce themselves and create a professional image.
---
Flossie and Delzena's
Heather Cosby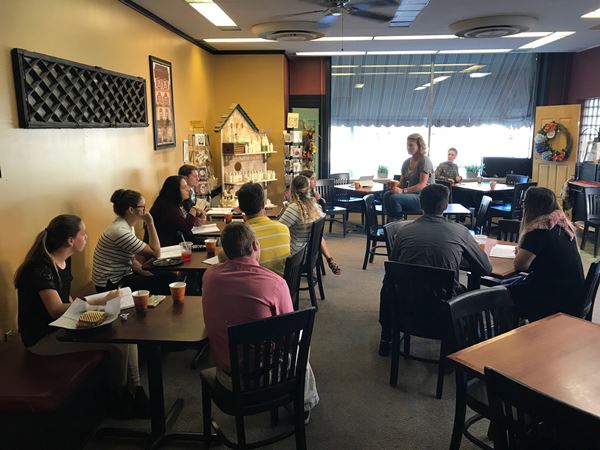 Thursday the CEO team went to Flossie and Delzena's, a cafe style restaurant in downtown Lincoln. It is owned and operated by Heather Cosby and her family. She told them about the growth of her business and the ways she had to adapt to different markets. After moving to a more traditional community like Lincoln, she had to adapt her business to cater to the needs and wants of the communities. She spoke about the struggles of small town business and the challenge of differentiating yourself from competition. She also spoke on how to diversify yourself to be successful. She never imagined that she'd be catering or renting out her building after hours or even selling sandwiches, but she kept taking new opportunities to become successful.
---
Student Journal Highlights for this week
Mark Shew found passion in shop class. He began to develop skills in the wood shop and later used

the knowledge from his jobs when he grew older and started his own business. He likes to

specialize in building the odd things, which sets him apart from other people. H

Dustyn Gaston
Tuesday, September 26, 2017Learn More About Dustyn
Todd Mourning spoke to us about the importance of budgeting and planning out your finances. He showed us examples of a business plan formulated by a former student. He explained the benefits that come with calculating your expenses, and the errors that could occur if you fail to do so. This was highly beneficial to us as we have never been showed a proper format or process of starting a business plan.

Emma Cooper
Wednesday, September 27, 2017Learn More About Emma
My favorite visit we went on was with Heather Cosby from Flossie and Delzena's.

Heather talked about how she had to bend to her target and basically just go with the

flow to get to where she is now. 

Talia Andrade
Thursday, September 28, 2017Learn More About Talia
---